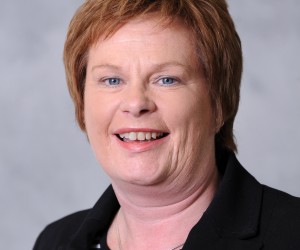 About the Author
Dr Vicky Kell
Trade Director, Invest Northern Ireland

Wednesday 19th March 2014, The US is an immensely important marketplace in terms of trade and investment for Northern Ireland. It's also a market with which Northern Ireland has historic ties and longstanding friendships.
Upwards of 50 million Americans trace their family roots to either Northern Ireland or the Republic of Ireland. They have helped shape the US economy, politics and culture. It makes sound business sense, therefore, to build on these connections.
We are very keen, therefore, that the Transatlantic Trade and Investment Partnership (TTIP) should be a success because we believe that there are substantial economic and other benefits for all from fostering the closest possible partnerships.
Our fervent hope is that the TTIP negotiations will result in outcomes that will make it much easier for our companies, especially the small and medium sized business which are the backbone of our economy, to succeed in the world's biggest and most dynamic market, a marketplace of 317 million people.
We are ready to play our part in supporting such potentially important initiatives and also in assisting US businesses to access the huge European Union marketplace of over 700 million people. By working together we can accelerate economic recovery and prepare the ground for prosperity and better living standards within the developing transatlantic partnership.
Of course we accept that our companies will have to be able to compete effectively by providing unique products and/or services that consumers there will value. We are not seeking special treatment, just the ability to compete on a level playing field especially in the huge public procurement market.
We recognise too that our companies have to be prepared to invest the time and other resources to develop and sustain competitiveness and ensure success in such a challenging market.  Very many companies are already being assisted by us to enhance their capability and competitiveness and are doing excellent business there.
TTIP can certainly assist this process greatly by addressing effectively and quickly the challenges facing our companies in areas such as tariffs, bureaucracy, customs issues, inflexible regulatory requirements and the overall costs of doing business there.
Many are also keen to assist US companies in developing worthwhile business in Europe. US companies can count on our businesses having the knowledge and experience to make a meaningful contribution to their plans. Invest NI, moreover, has already assisted very many US companies seeking a base in Europe either through investment projects here or strategic alliances with businesses with our businesses.
We see TTIP, therefore, as a hugely important business initiative offering real benefits for Northern Ireland and other partners.
Further Information
Dr Vicky Kell will be a speaker at our Road Show in Belfast on 27th March 2013 (click here for more information).