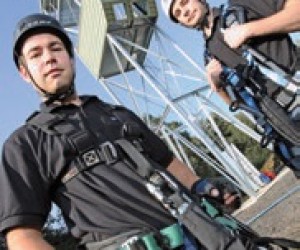 About the Author
Mike Dickens, General Manager Operations
Safety Technology is a leading supplier of safety and rescue equipment, training and health and safety guidance to the renewables, utilities and telecom sectors. As a RenewableUK and Global Wind Organisation-approved training provider, we offer an extensive range of industry-required safety courses, for both onshore and offshore industries. Our training is delivered from our locations across the UK, Europe and the US.
When setting up our operation in the US, we encountered a number of barriers ranging from the setting up of bank accounts and insurance policies, with laws and regulations on signatories differing from state to state, to understanding and meeting national legislation requirements.
The American safety standards 'OSHA' and 'ANSI' posed a particular challenge to us as they differ slightly from the UK's 'HSE' and 'CE' regulations. In order to tackle this challenge we needed to undertake specific equipment testing to ensure that our products met the relevant US standards. We also had to adapt our training courses to cover the local and national legislation of the state in which it was being delivered.
In addition to that, the initial exportation of products to the US incurred delays due to specialised safety equipment requiring different packing procedures and documentation. With help from local sources and the UKTI, we have now found a way to manage these challenges. Reducing the amount of barriers between the US and the EU is crucial for Safety Technology. The US is a huge market for us, and trade between ourselves and the world's leading producers of wind-powered electricity is key for the growth of our business internationally.