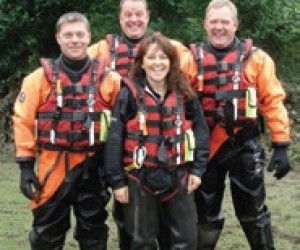 About the Author
Fran Corrie, CEO
AET Flood Defence is a Sheffield-based manufacturer which supplies local government, commerce and the domestic market with innovative flood defence products. Our main product is a self-inflating sandbag which requires
no sand. Called Aqua- Sac®, it is simply submerged in water and in five minutes an inflated sandbag is created. The fully allocated costs of Aqua-Sac® provide an 80 percent saving opposed to traditional methods of flood defence.
Even though we have distributors worldwide, we have tried and failed on a few occasions to bring our products to the American market. Our efforts to secure partners in the US have always come up against legislation and bureaucracy. Although our product is patented in the UK, it is produced in China. Because of this, country of origin laws become an issue, which have impacted directly on our duty rates, something which our partners found cost-prohibitive.
In addition to that, we are worried about potential copyright infringement should the product be licensed for production in the States. We are also concerned about the compatibility of non-disclosure agreements signed in the UK with American intellectual property laws.
The problems we face in regards to these issues have simply not justified the time and effort involved to potentially resolve them. The TTIP initiative looks very interesting. We hope TTIP will create a platform that will build bridges and provide a slick, efficient way of doing business. We will watch with interest!