The region comprises four Local Enterprise Partnerships (LEPs) – Leeds City Region; York, North Yorkshire and East Riding; and the Humber. The region offers a unique combination of stunning natural landscapes, the world famous City of York and industry leading innovation in offshore energy generation and agriculture.
Additionally, the Sheffield City Region LEP overlaps with this geography. Sheffield has an historic and current reputation for excellence in metals, advanced manufacturing, and advanced production technologies. Rotherham is the home of the Advanced Manufacturing Park, home to the University of Sheffield, Boeing, Rolls Royce, and many others. Doncaster is a major center for logistics.
The region has world-class research facilities at the University of York, York St. John, and the York Science park. It is home to 1,000 turbine wind farm, offshore on the Dogger Bank (a site the size of North Yorkshire), and benefits from $2.6bn investment in biomass and carbon capture, and storage at Drax Power Station. Its proximity to the Humber Estuary and the open sea means that region has a diverse range of industry and opportunities for investment.
The key sectors for the region are ports and logistics, chemicals and, more recently, renewable energy in the form of wind turbine farms in the North Sea.
KEY SECTORS, ASSETS AND CAPABILITIES
ENERGY
• Home to three of the U.K.'s largest coal-fired power stations producing 1/6th of U.K. electricity
• Rapidly emerging as the center of the U.K.'s offshore wind industry, with three of the world's largest offshore wind farms within 12 hours of its ports
• It is the location of Siemens' $245 million investment in offshore wind turbine manufacturing, around $45 million of investment in offshore wind operations and maintenance, $635 million investment in the Able Marine Energy Park and home to the U.K. National College for Wind Energy
• The Humber also provides a key base for multinational oil, gas and renewables companies, including Total, Phillps66, Siemens, Dong Energy, Eon, MHI Vestas, and Centrica. It imports a third of the U.K.'s coal, landing a fifth of the U.K.'s natural gas and refining a third of the U.K's fuel
HEALTH AND LIFE SCIENCES
• Leeds City Region has 36,000 jobs in the life sciences sector more than half of which are classified as highly skilled
• 196,000 healthcare jobs within the Leeds City Region representing 16% of city regional employment
• Employment in medical instrument manufacturing is 30% above the English national average
• U.S. companies present in the region include De Puy (R&D center in Leeds), Covance (clinical trials and new nutritional chemistry facility in Harrogate)
LOGISTICS
• Humber ports are a critical hub for trade and industry, centrally located for access to U.K. markets for importers and offering access to markets around the globe for U.K. exporters
• Central to east-west trade with direct routes into mainland Europe, the Baltic States, and beyond and is a key feeder port for major container ports including Rotterdam, Hamburg and Antwerp
• Doncaster, in the Sheffield City Region, is a major location for logistics in rail (East Coast Mainline), road (M1, M18 and A1 roads) and air (the expanding Robin Hood Doncaster Sheffield Airport)
FOOD AND DRINK
• The Humber is a major cluster for food processing:
– 35% of manufacturing jobs in the region are in food manufacture
– The region's concentration of businesses involved in agriculture, forestry and fishing is 250% above the national U.K. average
• It is home to major food and brewery companies and over 70% of the U.K.'s fresh and frozen seafood is processed in the Humber area
• It has a presence from U.S. companies such as Asda Walmart (U.K. HQ), Coca Cola (their largest bottling plant in Europe), Cott Beverages, and Hain Daniels
FINANCIAL AND PROFESSIONAL SERVICES
• Leeds City Region has 256,000 jobs dedicated to the sector making it the largest regional financial sector
• The region hosts regional HQs of legal and professional services companies such as KPMG, Deloitte, Squire Patton Boggs, and Mercer and is home to 3 of the 5 biggest building societies (similar in structure to thrifts) in the U.K.
• U.S. companies with a regional presence include Equifax, Cardtronics, TSYS Europe, Fuelcard, and Acxiom – card and data services
ADVANCED ENGINEERING
• The strength of the Sheffield City Region in advanced engineering sectors lies in the production and manipulation of high quality raw materials used in aerospace, medical, oil and gas, and nuclear component manufacturing. The Sheffield region is a center for production of super alloys for use in aircraft structures, and there are a number of quality machinists who act as product and supply integrators for the likes of Rolls-Royce
• The Advanced Manufacturing Park in Rotherham has become a U.K. center for aerospace research. The AMP is home to the Advanced Manufacturing Research Centre with Boeing; a world-class center for advanced machining and materials research for aerospace and other high-value manufacturing sectors. The AMP is also home to Rolls-Royce's new aerospace blade casting facility that manufactures turbine blades for Rolls-Royce's high-thrust engines
DIGITAL
• The Humber has a vibrant and rapidly growing digital sector, recording a 57% increase in new digital companies between 2010 and 2013
• Flagship digital businesses within the region include KC, Summit, Sonoco Trident, and Ebuyer
• Leeds City Region has 64,000 digital and creative media jobs with a focus on advertising, print and publishing activity – significantly higher than the U.K. national average for these roles
CHEMICAL AND PROCESS
• The Humber is home to a $9bn chemicals and chemistry using cluster, specializing in the process industry, refining and pharmaceuticals
• Multinational companies with sites in the Humber include BP Chemicals, Nippon Gohsei, Smith and Nephew, and Reckitt Benckiser
ENTERPRISE ZONES AND OTHER DEVELOPMENT SITES
The Humber offers the U.K.'s largest development sites available adjacent to a deep water port, including the largest Enterprise Zone in the country offering 2,000 acres of development land with incentives and fast track planning.
AMERICAN COMPANIES IN THE REGION INCLUDE:
Bemis Elsham Packaging
BemroseBooth Paragon
Corrboard UK Ltd
Daniels Food
Donaldson Filter Components
Ernst & Young
Frontier Agriculture
Guardian Industries UK Limited
Hain Daniels
LES Engineering
Phillips 66
Ryder Limited
Tube City IMS
Vivergo Fuels Ltd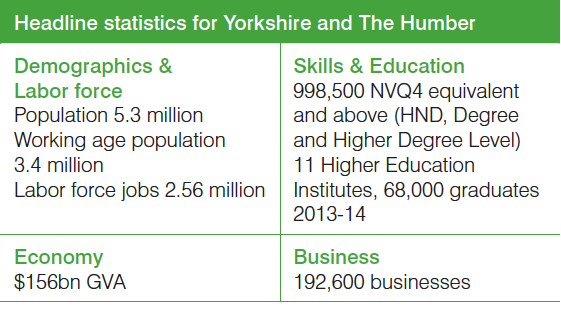 Further Information
KEY SECTORS ACROSS YORKSHIRE & THE HUMBER INCLUDE:
Humber – www.humberlep.org
• The Humber is the U.K.'s energy estuary, offering major manufacturing, O&M, and supply chain opportunities in the offshore wind sector, as well as in the wider renewables, oil and gas sectors
• Other specialties include food processing (fresh & frozen), chemicals and sea ports
Leeds City Region – www.the-lep.com
• One of the highest concentrations of manufacturing in the U.K. supporting such sectors such as automotive
• Other specialties include finance, legal and professional services, life sciences (medical instrument manufacturing), advertising and media, and food and drink
Sheffield City Region – sheffieldcityregion.org.uk
• Expertise in the design and implementation of novel materials and manufacturing technologies and techniques, serving the supply chains of many international manufacturing and engineering market sectors
• Other specialties include logistics, orthopedic device manufacture and energy
York, North Yorkshire & East Riding – www.businessinspiredgrowth.com
• A key hub for agri-food in the U.K.
• Other specialties include wind and biomass energy and biotechnology