The Southwest of England is the U.K.'s largest regional area covering around 9,250 square miles. The area stretches from Cornwall in the south to Gloucestershire in the north and has a population of just over 5.4 million. It is a vast economic geography and includes the major urban centers of Bristol, Bath, Gloucester, Swindon, Bournemouth, Poole, Exeter, and Plymouth.
There are six Local Enterprise Partnerships (LEPs) in the southwest; Gloucestershire, West of England (including Bristol and Bath), Heart of the South West (covering Devon and Somerset), Swindon & Wiltshire, Dorset, and Cornwall.
The southwest of England is home to approximately 250,000 businesses of which over 2,000 are foreign investors. It has established a reputation as a world-class business location for knowledge intensive industries, supported by a network of 12 Higher Education Institutes and a range of technology centers, science parks, and business incubators.
KEY SECTORS, ASSETS AND CAPABILITIES
AEROSPACE

• One of the most diverse and capable aerospace regions in the world, with a proud aerospace history stretching back over 100 years
• Capability includes aircraft structures, aero-engines, rotorcraft, unmanned air systems, avionics, landing gear, and a wide variety of systems and components
• Home to major prime contractors including Rolls-Royce, Airbus, BAE Systems, GKN Aerospace, GE Aviation Systems, Cobham, Goodrich, and AgustaWestland
• Hosts the U.K.'s only aerospace focused Enterprise Zone, Aerohub at Newquay Cornwall Airport. This site offers investors the largest planning free development site in the U.K. and 100% business rate relief
COMPOSITES

• Offers an unrivalled concentration of expertise devoted to designing, testing, and manufacturing composite materials for use in the most demanding of environments including marine, renewable energy systems, construction, automotive, and aerospace
• Home to the National Composites Centre (www.nccuk.com) which works closely with industry and academia to facilitate research into solutions for new lighter and stronger materials
NUCLEAR ENERGY

• Chosen location for two new nuclear power stations;Hinkley Point in Somerset and Oldbury in Gloucestershire. These multi-billion dollar projects offer potential investors a variety of business opportunities as a result of their wideranging supply chains requirements
• Well-established nuclear industry cluster and R&D expertise at the University of Bristol
MARINE TECHNOLOGY

• At the forefront of innovative industry-leading marine R&D for many years with over 620 miles of spectacular coastline, numerous ports and many successful supply chain companies, business investment opportunities in this sector are plentiful
• Home to some of the U.K.'s most successful marine businesses and research institutions, including Babcock Marine, Centek, A&P Falmouth, Siemens, Plymouth Marine Institute, Plymouth Marine Laboratory, Sunseeker, Princess Yachts, Supercat, and Thales
• Expertise includes composite manufacturing, remote and autonomous vessels, navigation and marine instruments, luxury yacht, military, lifeboat, and work boat design
RENEWABLE ENERGY

• Track record of developing 'firsts' in renewable energy:
– first wind farm in the U.K.
– first centralized anaerobic digestion power station
– first commercial pyrolysis plant
– first green electrical company and the first underwater tidal stream turbine in the world
• Over 800 renewable energy companies operate in the southwest supported by a range of world leading higher education institutions and research organizations such as the Peninsula Research Institute for Marine Renewable Energy (PRIMaRE), Bristol Technologies for the Environment Institute (BRITE Futures), and Bath Institute for Sustainable Energy and Environment (I-SEE)
• Home to Wave Hub in Cornwall, an innovative project testing the effectiveness of wave-based energy generation and the North Devon Tidal Zone which will support the demonstration of tidal stream arrays with a generating capacity of up to 30MW for each project
MICROELECTRONICS

• Has produced specialist microprocessors and silicon chips in the southwest for over 30 years
• Region can boast the largest concentration of silicon designers outside of Silicon Valley
• A globally significant cluster including international companies such as Huawei, Toshiba, Altran Praxis, and Cray Supercomputers
CREATIVE AND DIGITAL

• Strong cultural identity and long history in growing and attracting creative and digital businesses to the area
• Key businesses include the BBC, Aardman, Future Publishing, and Nokia Music. The recent explosion of digital and creative businesses in the region is breaking new ground across gaming, digital publishing, animation, software development, film, video, and TV
• Key clusters exist in Bristol and Bath, which has been recognized by TechCityUK as the largest digital cluster in the U.K. outside of London, and along the south coast in Bournemouth and Poole
PROFESSIONAL AND FINANCIAL SERVICES

• An important location for the professional and financial services industry where Bournemouth and Poole employ over 12,700 people in the sector
• At the core of a 'nearshoring' trend amongst financial and professional services firms: the movement of jobs either out of London or from overseas back to the U.K.
• Bristol and Bath also have a thriving cluster with companies such as AXA, Lloyds Bank, Burges Salmon, and Novia investing in the region
AMERICAN COMPANIES ALREADY IN THE SOUTHWEST
CRAY INC.
Cray Inc. A manufacturer of advanced supercomputers who, in 2014 was awarded a multimillion dollar contract to supply the U.K. Met Office, leading to their European headquarters being located in Bristol.
BECTON DICKINSON
Becton Dickinson is a leading global medical technology company, headquartered in Franklin Lakes, NJ, who has been operating in Plymouth, Devon since 1981, and Swindon, Wiltshire since 1998. The Plymouth site manufactures a broad range of blood collection products and systems for hematology, coagulation, and special chemistries, and supplies markets both across Europe and around the world. The facility in Swindon specializes in the development and manufacture of plastic purpose-designed drug delivery systems.
FINE TUBES
Fine Tubes is a specialist manufacturer of high specification, precision metal tubing for niche markets in the aerospace, medical, oil and gas, and chemical process industries. The company has been operating in Plymouth, Devon since the 1960s, now employing approximately 390 employees.
GE AVIATION – DOWTY PROPELLERS
Gloucestershire-based Dowty Propellers, is part of the GE Aviation group, headquartered in Ohio. Dowty Propellers is a leader in the design, development, manufacture and support of electronically controlled, all-composite propeller systems. The company employs 230 people in Gloucestershire and makes use of the nearby National Composites Centre to undertake specialist R&D activity.
SCHLUMBERGER
Over 300 people employed at its drilling center of excellence in Gloucestershire providing innovative engineering and quality driven manufacturing, with an emphasis on rotary steerable systems, downhole mud motors, and power source products.
CATERPILLAR MARINE
The Wimborne Marine Power Centre in Dorset was founded in 1968 and is now an integral part of the Marine & Petroleum Power Division of Caterpillar Marine, headquartered in Illinois. The site manufactures a range of Cat and Perkins-Sabre generators for the marine market from 11kVA to 312kVA, for both prime power and emergency applications.
JP MORGAN
Established in 1990 in Bournemouth, Dorset; now employing over 4,000 people supporting financial activities in more than 40 countries.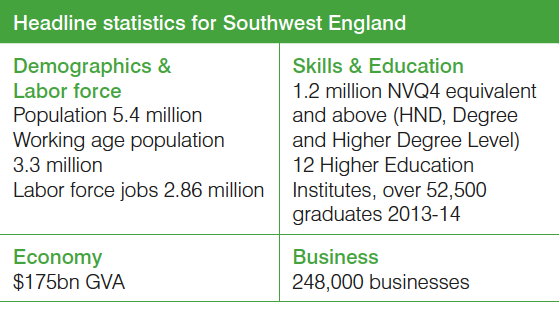 Further Information
Key sectors across the Southwest include:
Cornwall & the Isles of Scilly – www.cornwallandislesofscillylep.com
• Excels in research, design and implementation for renewables – solar, wind, and wave
• Other specialties include aerospace, advanced manufacturing/engineering
Dorset – www.dorsetlep.co.uk
• A center of excellence for animation, VFX, gaming, and digital activities.
• Other specialties include financial services, advanced manufacturing/engineering for aerospace, defense, and marine
Gloucestershire – www.gfirstlep.com
• Specialties include: aerospace, advanced manufacturing/engineering, life sciences, financial services, and food and drink
Heart of the South West – www.heartofswlep.co.uk
• A strong marine sector and specialties across aerospace manufacturing, advanced electronics/ photonics, medical science and wireless and microwave technologies
Swindon & Wiltshire – www.swlep.biz
• A center of innovation in automotive, mechanical, electrical and process engineering
• Other specialties include life sciences, financial services, low carbon and defense
West of England – www.westofenglandlep.co.uk
• One of the largest clusters of silicon chip designers outside of California
• Other specialties include: aerospace, advanced manufacturing/engineering, creative (animation, digital, gaming), composites, and financial services.
Sources: www.localinvestuk.com, Surfacing the National Offer