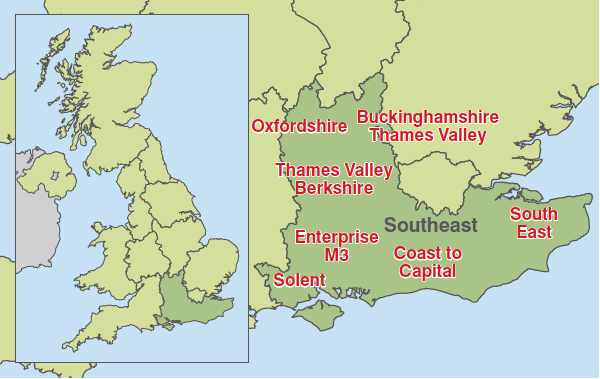 The southeast region essentially consists of seven Local Enterprise Partnerships (LEPs); Oxfordshire, Thames Valley (Buckinghamshire), Thames Valley (Berkshire), Enterprise M3, Solent, Coast to Capital, and South East (Kent and East Sussex).
The area has a diverse and powerful economy and is regularly placed in the top 10 of Europe's most economically prosperous regions. It is driven by its proximity to London, containing the top 2 U.K. airports (London Heathrow and London Gatwick), one of the U.K.'s largest ports (Southampton) and quick and easy access to Europe. The area has already attracted significant U.S. investment across a diverse range of sectors and continues to generate new commercial opportunities in both supply chain and prime activities through promotion of innovation, highly skilled local workforce and international recognition.
Often referred to as the U.K.'s Silicon Valley, the Thames Valley sub-region of Oxfordshire, Berkshire, and Buckinghamshire is home to 115 businesses.
KEY SECTORS, ASSETS AND CAPABILITIES
ADVANCED ENGINEERING/MANUFACTURING
• Marine – U.K.'s largest cluster, including advanced technology in composite materials and artificial intelligence

• Oil & gas – U.K. cluster of upstream, downstream and exploration companies

• Optical technologies – world-leading research with Solent universities & local commerce

• Vacuum technology – research & manufacturing centered on Kent and east coastal areas

• High Performance Automotive – Silverstone and Cranfield University links with local automotive companies
Existing U.S. companies
Garmin – European headquarters & marine navigation systems
Lockheed Martin – mission systems
Pall Europe – filtration systems
Tesla Motors – electric cars
Exxon – oil & gas producer
AEROSPACE
• Three technology centers at the University of Southampton – vibration & noise reduction
• Varied advanced defense manufacturing with Lockheed Martin in the Solent & Bedfordshire area
• National Aerospace Technology Institute – advanced engineering and transport related technologies
• Dedicated aerospace engineering education (Northbrook College) and aircraft simulation at Gatwick airport
• Farnborough – wind tunnel testing facilities
• Large supply chain opportunity to aircraft manufacturing in Solent & Bedfordshire areas (Airbus)
• Surrey has strength in space technologies:
– The Surrey Space Centre is a world-leading center of excellence
– Surrey's pioneering small satellite activities at the University led to the formation of a highly successful company,       Surrey Satellite Technology Ltf (SSTL) – now part of the Astrium group
– The Surrey Research Park provides a major center of excellence in technology, science, health, and engineering
Existing U.S. companies
Lockheed Martin – mission systems
STSL Satellites – satellite manufacture
RAL Space – R&D of space missions
Northrop Grumann – integrated systems
Eaton Corporation – hydraulic systems
CREATIVE, DIGITAL & IT
• 11 of the world's top 15 knowledge-based companies and 13 of the top $30bn brands are located in the Thames Valley
• Creative and high-end gaming excellence in Brighton and Horsham with e-education and e-health in Croydon
• Brighton University – industry-leading graduate and postgraduate courses in digital arts and media production
• Mega-data center capabilities in Slough (16% of the overall market in 2013/14)
Existing U.S. companies
IBM – U.K. headquarters
Cisco – European headquarters
Jim Henson Productions – television production & video distribution
Warner Bros – film studios (Elstree) & production
Dell – hardware manufacture
BUSINESS, PROFESSIONAL & FINANCIAL SERVICES
• Fintech development and wealth management in the Solent and south coast area
• Back-office support cluster in Croydon for London-based commerce
• Global consumer credit services based in Brighton
• BPFS center of excellence emerging in Solent/Enterprise M3 area to support fintech & skills development
• Highest output of patent generation in the U.K. in the Thames Valley area
• Henley Business School is a leading top 50 establishment in the world
• Oxford University – 3rd highest rated university in the world
Existing U.S. companies
American Express – European HQ
Towers Watson – actuarial & consultancy
ENVIRONMENTAL TECHNOLOGIES
• Cleantech university technical college in Newhaven to support developments in clean energy sources
• Offshore wind farm generation with expertise in turbine blade generation on the Isle of Wight & Kent
• Centre for Renewable Engineering (CORE) located in Kent cluster to support the U.K.'s largest offshore wind installations at London Array and Vattenfall
• National Academy Hubs for renewable energies located in Sussex to provide high-level skills
Existing U.S. companies
MHI Vestas – turbine blade manufacture
LIFE SCIENCES & HEALTHCARE
• 'Golden Triangle' – London, Oxford and Cambridge – European 'super-cluster' comparable to the international Massachusetts Cluster
• Design & manufacturing clusters in medtech and devices in Crawley/Gatwick and Harlow areas
• Discovery Park in Kent houses a cluster of 130 leading biotech, pharma and healthcare companies
Existing U.S. companies
Abbott Laboratories – pharmaceutical & healthcare
Johnson & Johnson – healthcare
Allergan – pharmaceutical
Varian Medical Systems – medtech
TRANSPORT & LOGISTICS
• Southampton is the U.K.'s largest cruise market port
• Heathrow & Gatwick airports offer easy global access for export and import of goods and services
Existing U.S. companies:
Carnival Cruises – European HQ & carbon footprint technology with University of Southampton
UPS Worldwide – parcel distribution & supply chain management
Amazon – consumer product distribution
AGRI-TECH & FOODS
• Leading R&D activity in genomics, pest and weather resistance
• East Malling Research Centre, renowned for its work in horticultural & environmental sciences
'MEGA' DATA-CENTER CLUSTER
Slough, Berkshire is at the heart of a U.K. 'mega' data center cluster, with circa 2 million sq ft plus of accommodation and supporting ecosystem, which includes:
• Dense, reliable power & fiber networks, connections linking the U.K. with Europe and the U.S. via numerous fiber suppliers
• Twenty plus data-centers, and counting
• Market Leader: Slough has a leading position in this sector – 16% of market (2013/14)
• Strong and extensive investment portfolio: clients include and range from U.S. banks, blue-chips and SMEs
ACADEMIA, APPLIED RESEARCH AND SKILLS
Employers are served by 20 universities and Higher Education institutions within a 50 mile radius. These establishments contribute over 66,000 graduates to the market place each year.
The University of Oxford is ranked 3rd overall in the 2014-15 ranking of the Times Higher Education World University Rankings and is placed top, for the 5th year running, of the league table for clinical, preclinical and health subjects.
The connections between Oxford and the U.S. are strong as is the spectrum of the University's activities.
• The U.S. is the largest source of students and staff outside of the U.K. and is home to the largest number of international Oxford alumni
• The U.S. provides the largest source of funding for research outside of the U.K.
• President Obama was sworn into office on the same Bible as that used by Abraham Lincoln (published by Oxford University Press in 1853)
• U.S. companies, including Merck & Co. Inc. and Amylin Pharmaceuticals financially support collaborative multi-center clinical trials led or co-led by the University

Further Information
Key sectors across the Southeast include:

Buckinghamshire Thames Valley LEP – www.buckstvlep.co.uk – A strong creative and media sector, with over 300 companies centered on the world-famous Pinewood Studios.
Other specialties include pharmaceuticals, sports science, assistive technology, product design, rehabilitation industries, and ICT/Software
Coast to Capital LEP – www.coast2capital.org.uk – An internationally recognized digital media cluster, particularly in gaming and e-learning.
Other specialties include life sciences, aviation simulation, financial & business services, and environmental technologies
Enterprise M3 LEP – www.enterprisem3.org.uk – A hub for space technology with expertise in small satellite technology, aerospace &  defense, financial & business services (legal/management consultancy/accounting), life sciences, and creative/digital/gaming
Oxfordshire LEP – www.oxfordshirelep.org.uk – Sectors in life sciences (drug discovery and development, diagnostics, medical technology, lab reagents, bioinformatics and digital health), advanced engineering, creative industries, and space technologies (upstream and downstream)
Solent LEP – solentlep.org.uk – The most extensive marine cluster.
Other specialties include aerospace, banking & insurance, and port activities
South East LEP, Kent – www.locateinkent.com – Offshore wind, life sciences, insurance, and food & drink
South East LEP, East Sussex – www.locateeastsussex.org.uk – has a strong computing and communications cluster, and specialties in creative/animation, and green technologies
Thames Valley Berkshire LEP – thamesvalleyberkshire.co.uk – A significant ICT location including software development and mobile communications.
Other specialties include life sciences and banking, finance, and insurance.
Sources: www.localinvestuk.com, Surfacing the National Offer