Northwest England's business environment is supported and promoted by private sector led Local Enterprise Partnerships covering Greater Manchester, Liverpool City Region, Cheshire and Warrington, Lancashire, and Cumbria.
Outside of London and the southeast, the northwest has the U.K.'s largest regional economy and is the most successful location for foreign investment in England. It has the largest GVA per head growth in the U.K. and Greater Manchester has had the highest GVA per head growth of any Local Enterprise Partnership area in England.
U.S. investment is significant across the northwest's key sectors: ICT, creative and digital (Cisco, Microsoft, IBM, Google, EON Reality), financial services (Bank of New York Mellon, MBNA, AON), life sciences (Bristol-Myers Squibb, Eli Lilly, Thermo Fisher Scientific), Life Technologies (Gen-Probe, Waters), advanced engineering/automotive/aerospace (General Motors, Johnson Controls Automotive, Husco International Ltd, Goodrich Corporation, Getrag Ford, Paccar, Jacobs Engineering).
KEY SECTORS, ASSETS AND CAPABILITIES
LIFE SCIENCES
• Manchester has Europe's largest clinical academic campus, key medical research institutes, Europe's biggest cancer treatment center, the world's largest clinical trials unit/U.K. Centre of Excellence with 11 million people within one hour's drive
• The Liverpool City Region has a strong industrial focus on pharmaceutical and biopharmaceutical manufacturing and diagnostics with 100 medical companies delivering products and services worth more than $2.3bn per annum and significant assets in both the research and clinical base, including the Liverpool School of Tropical Medicine, Medicine for Children Research Network, Centre for Personalised Medicine, and six hospital trusts
• Significant life sciences R&D activity at Alderley Park in Cheshire and plans for a Human Health Sciences hub
ICT
• Manchester has over 100,000 people employed in the ICT sector and a large number of world class software houses and IT consultants contributing some $8.25bn to the city's economy. Manchester Science Parks have over 500 companies and the South Manchester corridor is home to IBM, Cisco, Microsoft, and Accenture
• The University of Manchester's School of Computer Science has specialties in informatics leading to powerful collaborations with some of the world's leading technology companies such as IBM and Hitachi
• Sci-Tech Daresbury in the Liverpool City Region is a nationally important location for high-tech innovative technology companies and government investment in science/technology. It is a National Science and Innovation Campus operating large science facilities for the U.K.'s science research council including Blue Joule, the U.K.'s most powerful supercomputer capable of more than 1,000 trillion calculations/second. It has a technology-focused enterprise zone, multiple strategic partnerships across the U.K.'s university and industrial base; and is home to over 100 companies in digital/ICT, advanced engineering, cleantech/biomedical sectors
CREATIVE AND DIGITAL
• Manchester has had $5.35bn of public and private investment in the last few years to support the growth of its creative and digital sector. The MediaCity U.K.
development with the presence of the BBC and ITV has served as a magnet, attracting innovative companies developing creative and digital content and a variety of support services
• Manchester has 9,000 digital and creative businesses and is second only in size to London. In Liverpool and Manchester, the northwest possesses some of the most advanced digital production capabilities in Europe, a wealth of content creators in television, gaming, and mobile, leading academic research departments, thriving digital and creative hubs, and production spaces for feature movies, commercials, long form drama, and audio
FINANCIAL, PROFESSIONAL, AND BUSINESS SERVICES
• More than 250,000 people work in the biggest regional financial and professional services hub in the U.K. outside London in international banking, major accountancy and law firms, and hundreds of consultancies. 30,000 students graduate every year from local universities, including Manchester Business School, which is world ranked #1 for accounting research and first in the U.K. for business research. The Lord Mayor of the City of London said that 'Manchester is part of the Square Mile (a colloquial name for the City of London) and the Square Mile is part of Manchester'. Fast and frequent trains to London and direct flights to New York, Frankfurt, Geneva, Singapore, and 200 other destinations, allows service of a global client-base from Manchester
• Liverpool is the most important asset and wealth management center in England outside London with major pension funds and companies such as Pershing, Rathbones, and Deutsche Asset & Wealth Management. It also has over 42,000 employees in business administration and is home to Business Processing Outsourcing companies (BPOs) including Bosch, Service Source, and The Contact Company and a large number of customer service operations including Barclaycard, Santander, and QVC
ENERGY
• The northwest has a hugely significant energy sector with world class expertise and skills base in nuclear energy, renewable energy, waste management, and energy management. The Liverpool City Region is a major offshore wind energy hub and the only U.K. west coast location to have CORE (Centre for Offshore Renewable Engineering) status
• There is a $2.3bn program to generate renewable energy from offshore wind farms in the Irish Sea led by Celtic Array. A shale gas exploitation opportunity worth up to $50bn over the next 15 years with the northwest holding up to nearly 1,400 trillion cubic feet of recoverable reserves
• The northwest is a nuclear "super-cluster" in the U.K. and is one of the world's largest concentrations of nuclear capability covering the whole nuclear fuel cycle including manufacture of most of the U.K.'s nuclear fuel in Lancashire, nuclear de-commissioning, nuclear new build in West Cumbria, nuclear R&D, and engineering. It has key assets in the Nuclear Decommissioning Authority's HQ, the National Nuclear Laboratory, the National Skills Academy for Nuclear and Manchester University's Dalton Nuclear Institute and a proposed new nuclear build at Moorside and tidal lagoon proposals in West Cumbria
ADVANCED MANUFACTURING/ENGINEERING
• Lancashire has the single largest concentration of aerospace production in the U.K., employing 28,000 people in about 120 companies. The wider regional cluster accounts for more than a quarter of U.K. production and includes companies such as BAe Systems, Rolls Royce, Safran Aircelle, Goodrich, Assystem, and Ferranti. UAV technology is also a key growth sector, with the global market value of over $6bn a year expected to double in the next decade
• The Liverpool City Region, Cheshire and Warrington, and Lancashire have a strong tradition as an international automotive industry center with globally significant automobile manufacturers such as Jaguar Land Rover, General Motors (Vauxhall), Bentley Motors, Paccar, and Ford Getrag
• Cumbria has defense and marine engineering expertise and capability as the U.K.'s center for construction of the Royal Navy's submarine fleet including the U.K.'s Trident nuclear deterrent, development of offshore wind, oil and gas technologies, and deepwater subsea engineering
• Manchester is at the heart of the development of advanced materials, specifically around graphene and 2D materials, surface and coatings, light alloys, composite and technical textiles. Manchester is home to the National Graphene Institute which opened in 2015. The Institute will see scientists and industry working side by side to develop graphene applications of the future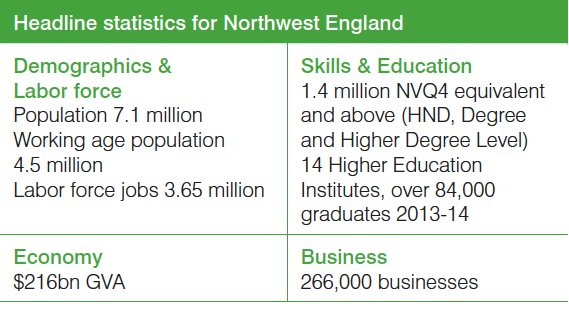 Further Information
Key sectors across the Northwest include:
Cheshire & Warrington – www.871candwep.co.uk
• Part of the northwest cluster of international importance, the nuclear sector plays a key role in R&D and fuel enrichment
• Other specialties include automotive, chemicals, financial services and life sciences
Cumbria – www.cumbrialep.co.uk
• Sellafield is the world's most concentrated nuclear energy site
• Other specialties include renewable energy, advanced manufacturing/engineering, and food & drink
Lancashire – www.lancashirelep.co.uk
• Single largest concentration of aerospace production in the U.K.
• Other specialties include advanced manufacturing/engineering, food & drink, and energy
Liverpool City Region – www.liverpoollep.org
• Automotive, life sciences, creative and renewables are notable strengths
• Other specialties include asset and wealth management, business process outsourcing, logistics, and computer gaming
Greater Manchester – www.gmlep.com
• MediaCity U.K. is the largest purpose-built media location in Europe
• Other specialties include financial services, ICT (software/hardware), life sciences, and advanced materials/graphene