The northeast of England region is located on the eastern seaboard of the U.K. and stretches from Berwick upon Tweed in the north to Darlington in the south. It is made up of the main conurbations of Northumberland, Tyne and Wear (including the core cities of Newcastle upon Tyne and Sunderland), County Durham, and Tees Valley. The region's economy is worth over $60 billion and is the fastest growing economy in the U.K. by GVA per head. It is also the only region in the U.K. to have a balance of trade surplus, currently standing at $4.5bn.
Tees Valley Unlimited and The North East Local Enterprise Partnership are the two organizations responsible for championing the northeast region nationally and globally, promoting its opportunities and capabilities to influence and shape the continued economic growth of the area. They are known as Local Enterprise Partnerships (LEPs) and are collaborations between the public and private sector working with numerous stakeholders including universities and colleges, UKTI, U.K. Government and international industry leads.
The northeast of England is home to world-leading advanced manufacturers, a truly pioneering life science and healthcare sector and a hotbed of digital and creative talent that is putting the area on the map. The region's natural assets, infrastructure, and a highly skilled workforce supports a reputation nationally and internationally as a place to do business.
KEY SECTORS, ASSETS AND CAPABILITIES
Northeast England is quickly becoming a leading part of the U.K.'s innovation story that is gaining national recognition and investment. It is home to four out of seven national Catapult centers – key drivers for future of U.K. innovation – covering Offshore Renewables Engineering, Digital Economy, Satellite Applications, and High Value Manufacturing.
Northeast England also hosts a number of significant innovation hubs, networks and R&D bodies. These highly engaged and proactive groups build on the work of the region's five worldclass universities and are focused on innovation promotion and advancement, offering access to business communities. They include the Centre for Process Innovation (CPI), Software City and Digital City, Newcastle Science Central, and the North East Technology Park.
As part of its investment in innovation northeast England is home to a number of centers of excellence to support industry growth including the Neptune National Centre for Subsea and Offshore Engineering, the Neptune Test Centre (the first commercial hyperbaric testing facility of its kind in the world), ORE Catapult's research, development, demonstration and testing facilities, and the Centre for Aging and Vitality which leads national research in the multi-disciplinary aspects of aging.
ADVANCED MANUFACTURING
• Advanced manufacturing makes the region a high value manufacturing and engineering powerhouse
• Home to giants like Nissan, Hitachi, Komatsu, Gestamp Tallent, Nestle, and Caterpillar, the area's booming manufacturing community is pumping $11.5bn into the northeast economy with some 60,000 people working in the engineering sector
SUBSEA, OFFSHORE ENERGY, AND RENEWABLES
• Particular strength in subsea with 50 supply chain companies generating a turnover of $1.5bn a year and supporting more than 10,000 jobs
• Industry leaders are Siemens, Vattenfall Wind Energy, Maersk Training, Samsung Heavy Industries, Doosan Babcock Energy, SMD, Technip, and GE Wellstream
• 400 acres of deep water development land, much of which benefits from Enterprise Zone status, teamed with ready-made infrastructure – from deep water quays, heavy load out pads and heavy lift cranes. Also a wide variety of riverside locations available
• Tees Valley is home to the world's largest energy from waste gasification plant and the U.K.'s only manufacturer of subsea array cables for offshore wind farms
SCIENCE HEALTHCARE AND PHARMACEUTICALS
• Home to 240 biotechnology, pharmaceutical, medical technology, and healthcare companies, together with leading world-class academic research, translational medicine, and clinical excellence facilities
• The northeast has developed a particular expertise in a number of sub-sectors, disease and thematic areas including ageing and health, regenerative medicine, diagnostics, and drug discovery
• Industry giants investing in the area include GlaxoSmithKline, Proctor & Gamble, Merck & Co., Piramal Healthcare, and Fujifilm Diosynth Biotechnologies as well as home-grown success stories like Kromek, QuantuMDx, and Aesica
• The National Biologics Centre, a $58 million facility is due to open shortly
SOFTWARE, CREATIVE, AND DIGITAL
• Home to a growing cluster of innovative creative and digital businesses that are taking advantage of the highly skilled labor force the area boasts, and the collaborative, connected and cutting edge environments on offer in this part of the world
• Home to some 6,000 businesses, employing over 20,000 people and contributing $1.15bn per annum to the regional economy
• The sector has enjoyed continuous growth, seeing more new technology start-ups than anywhere else outside of London and growth from existing companies including Ubisoft, Saggezza, and Hewlett Packard
CHEMICALS
• Tees Valley has the largest integrated chemical complex in the U.K. in terms of manufacturing capacity and the second largest in Western Europe
• The area is home to a range of key clusters in the chemical sector including refining, petrochemicals, specialty and fine chemicals, plastics, biotechnology, and pharmaceuticals
• Global names include Lotte Chemicals, SABIC, Huntsman, and BOC
• The hundreds of firms in the supply chain employ 200,000 plus staff, generating sales in excess of $41.3bn per annum with $18.35bn of exports that includes 50% of the U.K.'s petrochemicals GDP
AMERICAN COMPANIES ALREADY IN NORTHEAST REGION
AIR PRODUCTS
In mid-2014 American industrial gas and equipment suppliers, Air Products completed construction of its Tees Valley Renewable Energy facility. Located on the Tees Valley Enterprise Zone, the facility is the world's largest renewable energy plant using advanced gasification energy-from-waste (EfW) technology. The plant is the first of its kind in the U.K., and the largest of its kind anywhere in the world with an approximate capacity of 50MW. Lisa Jordon, Business Manager at Air Products said: "We looked all across the U.K., but Tees Valley offered us a number of advantages. You have very good industrial land; good access to the electrical and infrastructure that we need with great road links, but the key thing was we had excellent regional support from all the local organizations and stakeholders."
CATERPILLAR
Caterpillar has its global center for the production of articulated trucks in Peterlee, where it employs around 1,000 people. The U.S.-headquartered company is currently investing heavily in making its vehicles more fuel efficient, with help from the Energy Technologies Institute. Almost all production is for export, and the plant supports dozens of local suppliers. Caterpillar also operates subcomponent facilities in Tees Valley, serving its various U.K operations.
DARCHEM ENGINEERING (U.K. SUBSIDIARY OF THE ESTERLINE CORPORATION)
Darchem has been in the region since 1954 and produces high quality, specialist metal fabrications, fire protection and insulation products for the aerospace, nuclear, defense, oil and gas, and automotive industries. Demand for Darchem's precision products has been so great that an additional $12 million, 57,000 sq ft extension at its manufacturing base in Tees Valley, has been required to supply the growing market for large scale nuclear fabrication.
CUMMINS INC.
Cummins employs 700 people at its plant in Darlington, the company's European center for the production of its 'B' & 'C' Series diesel engines for buses and trucks. These are exported globally, to markets that include China and India. The company, which has its HQ in the U.S., has recently made significant investment in enhancing the efficiency of the engines produced at the Darlington plant, enabling it to meet the highest 'Euro 6' emissions standards.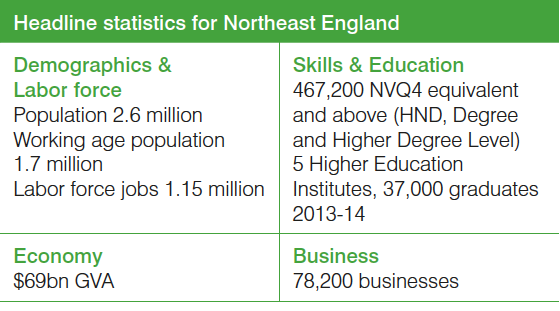 Further Information
Key sectors across the Northeast include:
North East LEP – http://nelep.co.uk
• The area is recognized as a primary location to further expand and grow the successful offshore energy market, including oil, gas, renewables and subsea
• Other specialties include automotive, low carbon (particularly electric vehicles and low carbon vehicle technologies), advanced manufacturing/engineering, and life sciences
Tees Valley Unlimited – www.teesvalleyunlimited.gov.uk
• Teesside is home to the largest integrated chemical complex in the U.K. and the second largest in western Europe in terms of manufacturing capacity
• Other specialties include advanced manufacturing/engineering, automotive, creative/digital, energy, and logistics (particularly Teesport deep sea complex)