Eastern England comprises the six counties of Bedfordshire, Cambridgeshire, Essex, Hertfordshire, Norfolk, and Suffolk. The corresponding Local Enterprise Partnership landscape involves South East Midlands LEP (SEMLEP), Greater Cambridge and Greater Peterborough LEP, Invest Essex, Hertfordshire LEP, Invest Suffolk, and Norfolk County Council.
With its rapid access to Europe and proximity to London and its international airports, the area is strategically situated and supports a diverse range of well- established and newly-formed businesses.
As well as the world-renowned Cambridge University, skills and research are further underpinned by the universities of Anglia Ruskin (Medical Technology), Bedfordshire (Computer Science and Business), Cranfield (Business Management, the U.K.'s #1 for business collaborations), Essex (Big Data, Robotics, Politics), East Anglia (Medicine, Health & Biological Science, Computing), and Hertfordshire (Film Animation, Computer Science).
KEY SECTORS, ASSETS AND CAPABILITIES
AGRIFOOD

• Norwich Research Park is a world-class center for R&D in food, health and environmental sciences
• Home to international brands like Birds Eye Walls, Linda McCartney Foods, and Monsanto, and to locally sourced produce such as British Sugar, the region's food and drink industry has a strong foundation and is a growing business sector
• Colworth Park – home to Unilever R&D for over 60 years, one of the areas open innovation centers
• The region is also leading a revolution in agri-tech development with a number of globally renowned facilities providing new solutions to drive the sector forward
ADVANCED MANUFACTURING

• One in 20 jobs in Essex is in the advanced manufacturing sector, with approximately 710 advanced manufacturing firms and 800 technology companies across the county
• Cranfield Technology Park – a world renowned center for innovation linked to a leading graduate university. Over 750 business collaborations, including Boeing and Rolls Royce. Host to the Aerospace Technology Institute. Active in all forms of advanced engineering and transport related technologies, including autonomous vehicles and environmental technologies
• Bedford – site of the Aircraft Research Association's wind tunnel testing facility for fighter and commercial planes
• Other well-known names include Cummins Engine Co. and Caterpillar-Perkins Engines (Peterborough), The Welding Institute (near Cambridge) and Lockheed Martin, defense products (Ampthill, Bedfordshire)
AEROSPACE

• There is a strong aerospace presence in the area, including GE Aviation, BAE Systems, B/E Aerospace, Gardner Aerospace, and Hexcel Composites
• The concentration of leading aerospace companies has enabled the development of strategic clusters focusing on skills development, procurement, and high level supply chain development
– London Stansted Airport (Essex), the U.K.'s third busiest passenger airport and third largest airfreight terminal
– London Luton (Bedfordshire), home to aerospace, aviation, and defense companies including Gulfstream. The sixth busiest airport in the U.K.
• Space and satellite engineering, communications technologies, defense and security-related logistics. Airbus Industries, Europe's leading supplier of satellites, launchers and space services, employs 1,500 scientists, engineers, and technicians in Hertfordshire, home to one of its major spacecraft design and manufacturing facilities. MBDA Missile Systems and Raytheon also have facilities in the region
AUTOMOTIVE

• Ford's headquarters and European research center in southern Essex continues to prosper with investment in new engine production having been agreed
• General Motors has reinvested in van production in Luton (Bedfordshire) guaranteeing the plant's future until at least 2025
• Millbrook Proving Ground and Technology Park (Bedfordshire), home of Navistar, provides a 700 acre park providing test and engineering solutions for the automotive, public transport, energy, and defense markets
• Hethel Engineering Centre (Norfolk), factory site of Lotus, a class-leading manufacturer of sports cars and a globally respected automotive engineering consultancy
CREATIVE INDUSTRIES

• The area is synonymous with movie and movie-making. Warner Bros. Studios at Leavesden in Hertfordshire is the largest feature movie studio space in the U.K. Alongside is BBC Elstree Studios which has seen the production of numerous big budget blockbusters, from Star Wars to The King's Speech and Les Miserables, and is known around the world as the home of the Harry Potter movies
• The Greater Cambridge area is home to several computer chip manufacturers – ARM's software development is strongly represented in the city, including Jagex Games, the U.K.'s largest independent games developer
ENERGY

Around $76.5bn will be invested in the next 20 years in the energy sector within eastern England
• A focused Enterprise Zone for the energy industry. Great Yarmouth and Lowestoft (New Anglia) Enterprise Zone provides discounts on business rates, simplified planning, and superfast broadband and has recently attracted U.S. investors such as Hydra-Rig
• This EZ is one of the government designated Centres of Offshore Engineering, as is another in north Essex
• The nuclear generation plant at Sizewell is proposed for expansion
FINANCIAL AND BUSINESS SERVICES

• There are over 1,600 financial and business services companies based in Essex, including Amlin plc, Friends Life, and Equity Red Star accounting for total sales of over $20.7 million in 2014
• Hertfordshire is a leading outer London location for European and U.K. headquarters, with over 30 companies consistently realizing over $1bn in annual U.K. sales through taking advantage of easy and quick connectivity into key European and global markets
• Norwich (Norfolk) and Ipswich (Suffolk) are national centers for the financial sector. A financial industry base for over 200 years, Norwich is the birthplace of Barclays plc and the U.K.'s largest insurer, Aviva (formerly Norwich Union). It is also home to a $5.35 million National Skills Academy for Financial Services, one of the first of its kind in the U.K.
• Mastercard Service Ltd are based in Peterborough
ICT

• Essex has a strong ICT base, with companies serving the media, software development, public relations, defense, automotive, aerospace, and business services industries
• A skilled labor pool is available and the existing Tech City cluster in east London is easily accessible. Essex-based companies in the ICT and advanced electronics sector include Gigawave and MTL Instruments Group, a division of U.S. company, Cooper Crouse-Hinds
• Everything Everywhere (EE), are headquartered in Hertfordshire. Adastral Park (BT's Global Research and Development Headquarters) is the home of pioneering work in optical technologies and digital switching and is recognized as one of the leading centers of technical innovation in the communication world
• Microsoft is based in the William Gates building in Cambridge
PHARMACEUTICALS AND HEALTHCARE

• Companies involved in the development of life sciences locating within the area will be joining a range of international organizations including AstraZeneca and Amgen, and can gain access to several world-leading research facilities. The "M11 corridor", according to independent research (London Stansted Corridor Consortium) holds "The largest life-science cluster outside the U.S." There is an embedded Enterprise Zone in Harlow focusing on medical devices
• GE Medical Systems are based in Hatfield, and GlaxoSmithKline (GSK) at the Stevenage Bioscience Catalyst
TRANSPORT AND LOGISTICS

• London Gateway port (the U.K.'s newest deep sea port and Europe's largest distribution park)
• Port of Felixstowe (the U.K.'s largest container port)
• Airports and excellent infrastructure all accommodate transport internationally by sea and air as well as throughout the U.K. by road
• Amazon fulfillment centers have developed across the region through recent years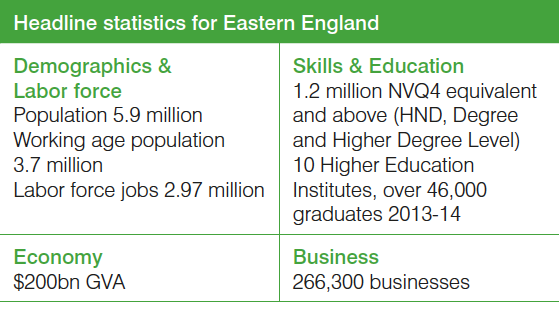 Further Information
Key sectors across Eastern England include:
Greater Cambridge Greater Peterborough – www.gcgp.co.uk
• Home to internationally leading-edge sectors including life sciences, cleantech, advanced manufacturing/engineering (including aerospace), ICT/digital/creative (electronics, software development, gaming), and food and drink
Hertfordshire – www.hertfordshirelep.com
• Home to over 200 globally significant pharmaceutical, biotechnology, and medical device companies and institutions
• Other specialties include space, engineering, communication technologies, security equipment, logistics, and creative/movies
New Anglia – www.newanglia.co.uk
• A major U.K. location for energy activities including offshore wind, oil and gas, and nuclear generation
• Other specialties include financial services (insurance), food and drink, creative/digital, health and environmental science, and ICT/communications
South East – Essex – www.investessex.co.uk
• Has a strong manufacturing base. One in 20 jobs in advanced manufacturing. An estimated 710 advanced manufacturing firms and 800 technology companies in the county
• Other specialties include ICT, logistics, and life sciences
South East Midlands – www.semlep.com (overlapping with adjacent region)
• At the heart of a high performance technology and motorsports cluster of 1,500 companies
• Other specialties include logistics, food and drink, aerospace/defense/electronics, and sustainable construction/renewable energy technologies