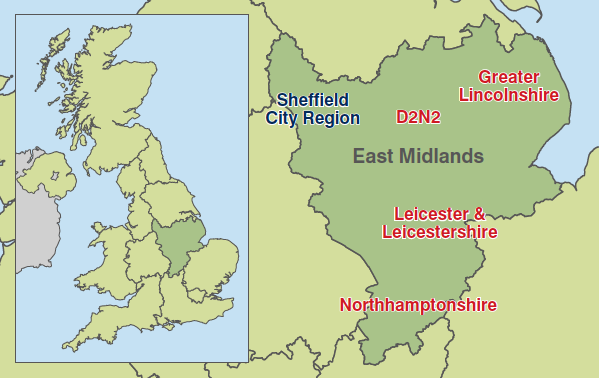 The East Midlands region comprises the six English counties of Derbyshire, Leicestershire, Lincolnshire, Nottinghamshire, Northamptonshire and Rutland (England's smallest county).
For inward investment purposes the regions six counties have formed four Local Enterprise Partnerships (LEPs)
• The Derby, Derbyshire, Nottingham and Nottinghamshire LEP (D2N2)
• The Leicester and Leicestershire Enterprise Partnership
• The Greater Lincolnshire LEP
• The Northamptonshire Enterprise Partnership
Additionally, there are three LEPs that overlap parts of the East Midlands: the Sheffield City Region LEP, the South East Midlands LEP (SEMLEP), and the Greater Cambridge and Greater Peterborough LEP.
The East Midlands has a fast growing regional economy with 147,000 tax registered businesses. Manufacturing still accounts for 20.5% of output and 16.1% of employment. The region is home to the largest cluster of railway and aero engine companies in Europe including Rolls Royce, Bombardier, and Progress Rail (Caterpillar).
The region is accessible from the rest of U.K. via the main rail and freeway networks (M1, M6 and the A14) and the port of Felixstowe. It also has rapid access to Europe, and is internationally connected, through East and West Midlands airports.
KEY SECTORS, ASSETS AND CAPABILITIES
ADVANCED ENGINEERING
• D2N2 hosts the largest rail cluster in Europe and a major center for Transport Equipment Manufacturing
• Leading companies include Raleigh, Toyota, Rolls Royce and Bombardier, Caterpillar, Park Air Systems, Johnsons Controls, and Tata Steel
• The recently opened Institute for Innovation in Sustainable Engineering (IiSE) will further develop engineering and manufacturing expertise in the region which is supported by the University of Derby, Rolls Royce, Toyota, and Bombardier. DN2N also hosts the Centre for Innovation and Technology Exploitation at Nottingham Trent University. Working with business is second nature for these universities, whose client list includes such giants of industry as E.ON and Rolls-Royce
• Leicestershire hosts the U.K.'s National Space Centre and for over 50 years has designed, engineered and manufactured equipment in this sector. The University of Leicester and Loughborough Universities, both ranked in the top 10 in the U.K., have expertise in space research, biotechnology (genetics), electronics engineering, sports technology, automotive/aerospace engineering, and low carbon and fuel cell technologies. It hosts aerospace related companies like AETC
• The strength of the Sheffield City Region in advanced engineering sectors lies with the production and manipulation of high quality raw materials used in aerospace, medical, oil and gas and nuclear component manufacturing. The Sheffield region is a center for production of super alloys for use in aircraft structures and there are a number of quality machinists who act as product and supply integrators for the likes of Rolls-Royce
• The Advanced Manufacturing Park (AMP) in Rotherham has become a U.K. center for aerospace research. The AMP is home to the Advanced Manufacturing Research Centre with Boeing; a world-class center for advanced machining and materials research for aerospace and other high-value manufacturing sectors. The AMP is also home to Rolls-Royce's new aerospace blade casting facility that manufactures turbine blades for Rolls-Royce's high-thrust engines
HIGH PERFORMANCE TECHNOLOGIES & MOTORSPORTS
• Home to U.K. F1 motorsports with Silverstone Park, Northamptonshire is at the heart of the U.K.'s Motorsports Valley
• There are over 1,000 High Performance Technology (HPT) companies in the county, forming a comprehensive, world-leading, industry supply chain and a U.K. center of excellence employing 21,000 people
• Specialties includes race engineering, low carbon vehicles, lightweight materials, and environmental technologies, including Cosworth on the Northamptonshire Enterprise Zone, 3M, Ilmor, Cummins, Ford, Oclaro, TRW Systems, and Bright Light Structures. It works closely with the surrounding counties which have HPT interests, especially with Leicestershire which hosts the world renowned MIRA Enterprise Zone with a strong focus on intelligent mobility and autonomous vehicles
ADVANCED MANUFACTURING, INCLUDING FOOD & DRINK
• A major food providing region, Greater Lincolnshire delivers from "farm to fork" and from "trawler to table". Crop and food production is a significant part of the East Midland's economy, with Lincolnshire consisting of extensive arable land producing fresh food and vegetables
• A strong center for agri-tech in the heart of the U.K., the region provides a good base for food and drink logistics, where food miles and timely chilled fresh food delivery to supermarket hubs is an economic driver for these counties along the M1/A1 corridor from Northamptonshire to Lincolnshire
• It houses the large port of Grimsby and a food cluster with one of the largest concentrations of food manufacturing, research, storage and distribution centers in Europe
• Lincoln University is climbing the U.K. league table, and the National Centre for Food Manufacturing in Holbeach is recognized internationally as a center of excellence in the food production sector
• Key food brands and manufacturers include Leicestershire-based Walkers Crisps, Benson Box, Graphic Packaging, Mars Petcare UK, Stilton Cheese & Melton Mowbray Pies, Worldwide Fruit, Coca Cola Enterprises, Weetabix, Carlsberg, and Ruddles Bitter
RENEWABLE ENERGY
• Lincolnshire has a strong heritage in manufacturing and engineering combined with excellent natural assets – land, coastline and the major port of Grimsby
• Lincoln University has also partnered with Siemens to create a purpose built School of Engineering and also hosts the Centre of Renewable Energy (CORE) in Grimsby
LIFE SCIENCES
• Home to world-renowned Alliance Boots, Nottingham and the University hospital, the area is an active hub for new advances in medical science, boasting world-class institutions making this the ideal location for life sciences businesses
• The University of Nottingham hosts the Centre for Biomolecular Science and Nottingham Trent University hosts the John Van Geest Cancer Research Centre. Universities collaborate extensively with business, including the likes of AstraZeneca and Novartis. Companies hosted in the area include 3M and Alliance Boots, now owned by Walgreen, forming a significant part of D2N2's enterprise zone, which has now been extended to include Infinity Park in Derby. Chesapeake Pharma and Molecular profiles are just two of many life-sciences companies located here
LOGISTICS
• The region benefits from connectivity across all modes of transport, with five international airports within an hour's drive, easy access to the major road networks, efficient and fast passenger and freight rail links and five major ports within a three hour reach
• The Centre of Vocational Excellence for Logistics is based at Daventry, forming part of the Chartered Institute of Logistics and Transport based in Corby
• U.S. companies in this field located in the region include Avery Dennison and Xpo logistics (following the recent acquisition of Norbert Dentressangle, whose U.K. HQ is based in the county), as well as Neovia Logistics Services and George International
• Doncaster, in the Sheffield City Region, is a major location for logistics in rail (East Coast Mainline), road (M1, M18 and A1 routes), and air (the expanding Robin Hood Doncaster Sheffield Airport)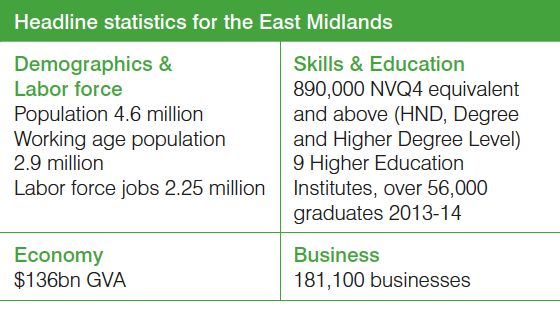 Further Information
Key sectors across the East Midlands LEP regions include:
D2N2 – www.d2n2lep.org
• Derby has largest rail cluster in Europe
• Nottingham is home to BioCity, one of Europe's largest bioscience incubator hubs
• Advanced Manufacturing/Engineering
Greater Lincolnshire – www.greaterlincolnshirelep.co.uk
• Farming, manufacturing and food processing are worth an estimated $1.5bn to the region's economy
• Logistics
• Renewable Energy
Leicester & Leicestershire – www.llep.org.uk
• Leicestershire is perfectly positioned for the logistics industry, with East Midlands Airport, the 2nd largest freight handling airport in the U.K.
• Creative Industries
• Advanced Manufacturing/Engineering (Automotive and home to the National Space Centre)
• Food & drink
Northamptonshire – www.northamptonshireep.co.uk
• Leaders in High Performance Technologies (HPT) and home to Motorsport Valley
• Logistics
• Food & drink
• Low carbon technologies
Sheffield City Region – sheffieldcityregion.org.uk (overlapping with the East Midlands and Yorkshire regions)
• Sheffield has an historic and current reputation for excellence in metals, advanced manufacturing and research advanced production technologies
• Rotherham is the home of the Advanced Manufacturing Park with the University of Sheffield, Boeing, Rolls Royce and many others on the site
• Doncaster is a major center for logistics