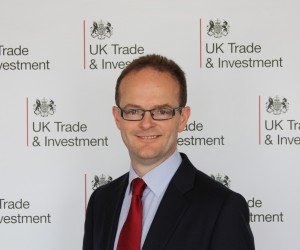 About the Author
Dominic Jermey
Chief Executive, UK Trade & Investment

Just as the US and the UK have long been the closest political allies, the US remains the UK's biggest trading partner. Bilateral trade between our nations topped £135 billion in 2013, a fi gure that could grow significantly with the signing of the Transatlantic Trade and Investment Partnership (TTIP). TTIP is the UK Government's top trade priority and we hope to break the back of the technical negotiations by the end of 2014, creating the potential to reach a political agreement in 2015 so that businesses on both sides of the Atlantic can begin to reap the rewards of this far-reaching
partnership.
TTIP is particularly good news for small businesses. By removing unnecessary and costly regulation, TTIP will open up the US to a new generation of British exporters. Companies will no longer need to produce multiple product lines to meet the conflicting standards that currently exist across the EU and US, while eliminating all tariffs on goods
could save UK exporters almost £1 billion, freeing them up to do business in one of the world's most dynamic markets.
Conservative estimates suggest that total EU exports to the US under TTIP would go up by 28 per cent, the equivalent to EUR 187 billion of goods and services. We want to ensure that UK businesses are in the best possible position to hit the ground running when an agreement is reached. Our partnerships with organisations such as BritishAmerican Business will be crucial to making this happen.
We are working from strong foundations – UKTI has an extensive presence in the US with offices in nine locations throughout the country. Our network of experts is well placed to provide up-to-the-minute advice and guidance to UK companies looking to export to the US. Working alongside BritishAmerican Business they can give you the
help and support you need to succeed in the US.
Our rolling programme of trade missions is a great way for companies to discover the US through intensive, week-long visits tailored to specific sectors. Among those scheduled for the beginning of 2015 are a technology-focused trip centred on SXSWInteractive in Austin, Texas, and a music and TV mission coinciding with the Real Screen Summit in Washington, DC. Companies interested in attending these, or subsequent missions, should visit UKTI's dedicated events portal, events.ukti.gov.uk
Potential exporters are also able to interact with the US through our online webinar programme, gov.uk/ukti-webinars, and our website, opentoexport.com. These initiatives, coupled with a comprehensive range of export services including tailored programmes for small and medium-sized businesses, are designed to help you grow internationally and are a great starting point for any British company considering the US market.
As you will see in this publication, opportunities for British companies exist across all 50 states. We are here to help you make the most of them, and we look forward to working with you and BritishAmerican Business in 2015.
Dominic Jermey,
Chief Executive, UK Trade & Investment (UKTI)